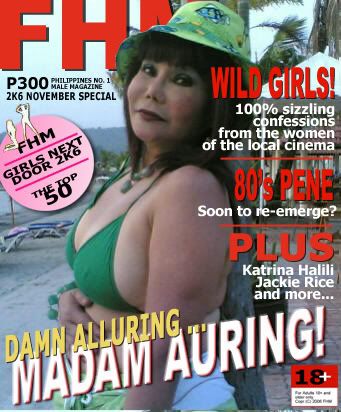 Ooops! This is the wrong Auring! Hahaha!


I
t's typhoon time again and the first one to grab the letter "A" this year was "Auring". Definitely the best one for fortune tellers (since they are in a crisis too because the Church said not to believe them) and she is not the one in the picture, she's a typhoon that stood still in Eastern Visayas... it's spinning but not moving! Since Auring is not moving at all it is threatening a couple of provinces in the Visayas region. Millions worth of crops will be affected.
At around 10 PM PAGASA said it's center is around 130KM east of Surigao City.It has sustained winds of around 55 kilometers per hour and moving east-north east in around 7KM per hour...that is just too slow for a typhoon. It is expected to be around 70KM north of Surigao City or south east of Guian, Eastern Samar which I'm worried about because it is prone of landslides.
It's under signal number one in public storm signals together with Northern Samar, Western Samar, Leyte, Southern Leyte, Biliran Island, Camotes Island, Surigao del Norte, Siargao Island and Dinagat Island which mostly have some of the best tourist spots in the country.
I hope everyone get's through this. I pray they would be fine.