Y
ou know what I love about TV5? It's their ability to innovate and make shows from scratch. This weekend, we covered what seemed to be a secret show they were working on for almost a year now. The cast, was just about everybody on TV5's stable. It was also going to be in a time slot where the strong only survive. They are challenging some really good programs from other networks but wouldn't just provide stars and variety, they're adding in comedy, dance, singing in a whole different way. Different way? Yes, different. How you may ask? Well for starters, they're not just doing it inside the studios, aside from that, they're not letting the audience travel all the way to the Novaliches or Mandaluyong studios... they're going to you! Yes, they're going from town to town in this huge one of a kind Happy Truck as it converts into a full functioning stage and do their production numbers, game segments, songs and dances on the streets where you are. They're going to your barangays and play, go around and be with you as they launch this noontime show called "Happy Truck Ng Bayan!".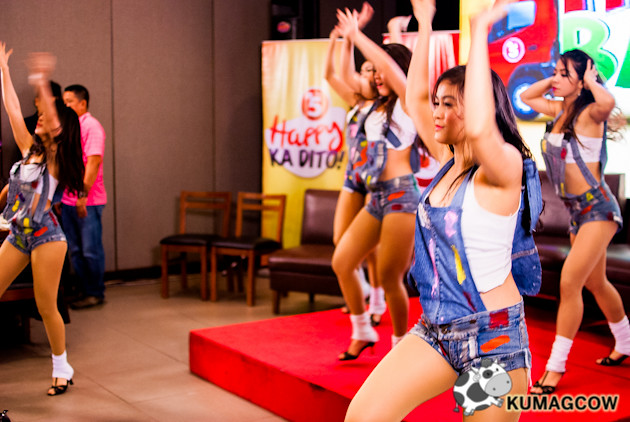 For starters, they had us surprised with new faces as the "New Generation Sexbomb Girls". Same intensity, same body qualities and strong disposition that they'll be getting the whole cast and the crowd dance with them on the show.
There's no other channel that features some of the newest stars in different shows such as these
kilig
crew. Imagine Sophie Albert, Vin Abrenica, Chanel Morales, Akihiro Blanco, Shaira Mae and Mark Neumann as they take you into Wattpad Presents themed games and portions in the show plus their own production numbers. They're cute, gorgeous, amazing and if you get them in one frame everyday, wouldn't that be awesome?! Oh and if that ain't enough, Superstar DJ Tom Taus will join the crew. Isn't that too much? Well, there's more!
Add to that, these gorgeous veteran hosts and mothers namely Marielle Padilla and Gelli De Belen and you've got all the hosting stints in between portions all taken cared of. You'll get some well needed professional skills in that part to keep the show steady flowing. Plus, they are pretty right?
Oh and as if they don't have enough stars, the one and only Jasmine Curtis joins in to provide not only extra shine to this cast but her own hosting stints and production numbers since she's done some of these during the dance show with DJ Tommy Taus. Fans should rejoice now that they're sure to see her every week on this new show.
The one and only Ogie Alcasid will also be there, he says he's not actually going to sing with Janno Gibbs who's also in the show. This time, he dares to say that he's going to choreograph each and every dance number because that's his biggest secret. You won't see anything else like that in the world if he starts teaching the New Generation Sex Bom Girls. You just watch out for that! Plus, he's going to do portions with Janno Gibbs now that he's in the same stable. Janno just recently signed in with the Happy Network. Let's watch their antics real soon!
Super gorgeous guy Empoy, sassy Tuesday Ledesma and Dinosaur Kim Idol will provide the necessary comic relief under the sun. Empoy's equally good looking twin brother Derek Ramsay will also be there. They're both going to strip down especially Empoy so they can make your lunch time worthwhile.
Ms. Wilma Galvante says she's confident about the power of this stellar cast. They're going to bring in their individual fans, plus bring the public much closer to them because they're not just going to wait for the audience to come to them... they're going to be the one to come to you! The Director also said they're working hard to make this perfect and they got the taste of how it is going to be later on when they did the registration in Manila's backyard, Tondo. The stars went house to house and asked people to register as contestants for the show and they got so much positive response that they'll be doing the show real soon. I heard they're going to do the pilot on the 14th! Are you excited? Well, here's one of the stars to tell you how it's done because we were able to talk to hearthrob Akihiro Blanco.
Aki is excited for this show as he gets to go out and meet his fans, as well as the avid viewers of TV5. He's also part of hit show Baker King where he plays opposite Mark Neumann. They play brothers and I've seen the Korean version of it. His character will be pivotal in this series as he battles for the love of his parents, and baking too.
Anyways, there are more good looking people in "Happy Truck Ng Bayan" and they plan to cover every town in Luzon as of now, and pretty soon Visayas and Mindanao as well. You'll get to see your favorite Happy Network stars up close and it'll be like a party in your plaza every week. Make sure you register and try your luck in their games and you might win fabulous prizes too! Again, this will air on June 14 at 1PM. Let's see how they fare as they bring out the best artists in their station!
For more information about their network:
TV5 Manila