I don't want to put these two teens on the spot but hey, they do look good together. I've been able to interview them a couple of times now and these guys are so sweet on and off cam. Although Bianca already said that they know they have to prioritize their work first, I feel there's already something brewing with these two and I'm happy to say that it shows on these behind the scene shots from the BUM Black Summer shoot.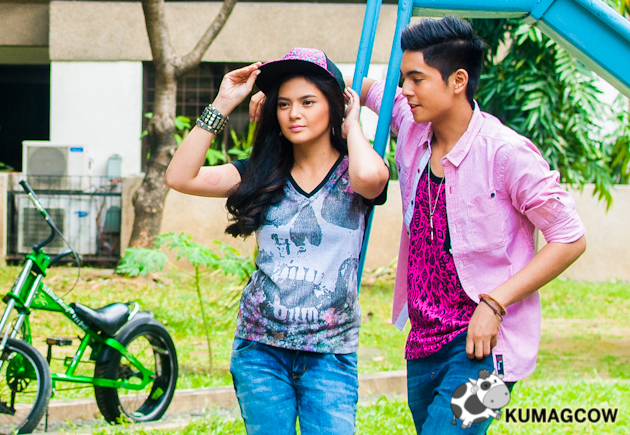 Everyone was like gushing during the shoot because these two had chemistry right from the first shot was taken by Ash, BUM's photographer for this one.
I even did catch them doing small things like these while they weren't being shot, so just imagine how Team Biguel must have felt when they saw this no?!
During this shot, Bianca hit Miguel's abs a couple of times while Miguel stiffens it up. He tried hehe!
I'm so happy that Bianca and Miguel is part of the BUM family. These two humble stars from GMA also got the chance to work with the teens from the other stations and I did tell Bianca how nice she was especially on photos. I bet she can even pass as a supermodel in print because her look is very editorial, what more if she had training no?!
Bianca Umali
It's consequently Bianca's birthday today too. I'll greet her in a bit but before anything else, here's one of the things she wore that afternoon for the shoot.
We sat down with Bianca to ask about her current projects and what she liked about this BUM Black Summer collection and she says "Right now ongoing is Once Upon a Kiss which is every weekday after More Than Words, and also Ismol Family every Sunday after Vampire ang Daddy Ko, then also Sunday All Stars. (I complemented her here because she looks different on print, like a supermodel that does editorials, yes she's fierce and bad@ass) Uhmm.. Thank you, thank you so much. I'm still studying on how to work more on photos because I'm really new to this, hearing your complement means I'm doing a good job. We do monitor our show, we watch it while we're shooting. We're back in the province and when we shoot we're ahead.
Well we're best friends, we're very comfortable, we're like siblings, what our friendship does is that we both discover things together. It helps us both that you work with someone you're comfortable with.We don't have to adjust and know other actors so it's easier. There's spark I guess, there are thoughts, but I'm not saying that it should happen. (Then I asked "Do you know he likes you?") I like him too actually, what makes me like him more is that my family likes him too. We don't want to make them disappointed with the trust they've given us, our families are good and we both want to see what the future holds. Our priorities remain our work and studies, I think that's what is important. I'm still in second year, but I'm planning to take acceleration courses, I'm so happy I passed. I'm planning to take communication arts, film, photography and fine arts and I love the industry. I enjoy the life because this is what my Mom and Dad dreamed for me. I also know that it will help me a lot because I support myself. Whenever we have shoots for BUM and clothes, I don't have a hard time choosing because it's me. Physically, emotionally, when I think about what my mood is, BUM fits me perfectly. I'm very okay with colors, I'm okay with classic ones. Actually, when I don't have clothes I go to black, when in doubt, I go to black. When there's a trend, we'll make it black, I'm totally okay with that!"
She's pretty, and intelligent, I don't think Miguel would mind having someone like her. In fact I think he really likes her.
Which brings us our second subject.
Miguel Tanfelix
Miguel is a sweetheart, even if he's a guy he's in that category. It's the small sweet things he does that make him qualify that and I'm sure Bianca has seen it. His personality is pretty close to the Prince in his show, yet he may be even more.
Talking to Miguel, he says "I have no shows lined up yet aside from this one I'm currently in (Once Upon A Kiss) but hopefully there's going to be one soon. Shooting this show was just good vibes, just chillax but we're not letting off that easily and we're doing the hard work to make this story more interesting. Our director is no less than THE Bb. Joyce Bernal and she's one of the reasons why the set is so easy. We shoot in the south, we love the ranch and pineapple farms we go to. After this soap, hopefully the projects would continue or if not, I'd rather study and wish to have my dreams of becoming a pilot to become a reality. I'm almost done with high school, but I want to also do film or become ground crew if it happens. Although we're comfortable with each other in the previous shows, we're not that really comfortable. But now, it's so nice that I can even ask to go with them if my car needs fixing without hesitation, we're very comfortable now more than ever.
Bianca and I know our limitations because this chance is too good to pass and GMA has given us such a huge opportunity. (We joked that he's rehearsed this answer already and laughed it off!, then I asked him really? No chance of this becoming serious? But you've been with her for countless hours!) then he utters

"Crush ko siya, crush ko si Bianca matagal na"

but I always tell myself, we talked about it that we're going to concentrate on our careers. We're not going to get ahead of ourselves and it's not going to be now. It will come. It's not at this age, but it will come.
We do get some sleep, we take lots of it in between shoots so I hope people don't worry.
Our outfits, the things we use from BUM, it's all cool, rebellious, and colorful. I like black a lot, but blue and green comes second. I do workout with Coach Froilan but only to become a little thinner. In the near future, I'd probably try to get taller first before trying to get bulked up. I still appear in Ismol Family and Sunday All Stars so I hope people watch us there. I like the shirts, I like the crop tops, I wish we could swim later in the pool before the shoot ends."
Bianca and Miguel are just starting with BUM. Their love for the brand is evident and I hope their followers support them by getting the things they wear, the outfits they choose from the stores that support these artists. BUM Black Summer is so good, I'll wear them too!
That concludes our BTS coverage for your favorite teen ambassadors for BUM. We'll have another round of these things soon. Who knows, we might just have another story about them too! Please tell us what you think about Jane Oineza, Nash Aguas, Ella Cruz, Miguel Tanfelix and Bianca Umali by using the hashtag #BUMBlackSummer on Twitter and Instagram.
For more information about this campaign:
Official BUM